The international clown festival innsbruck was a popup platform for clown theatre and professional exchange in western Austria in 2018. The festival was initiated and organized by clown duo Fort Willy. Take a look and see what happened!
calendar
There were formal and informal opportunities for exchange, resource-sharing and connecting with clown performers from all directions of the map, while surrounded by the sky and mountains of Tirol. For four days the festival became a lively meeting point for audiences, budding and professional clowns, local and international artists.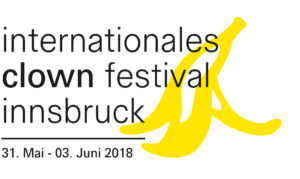 CONTACT
Write us an e-mail, or just send us
an e-mail directly using the form to the right.
Festival Organizers
Festival location
Thank You

Tirol Milch
Bäckerei Moschen
Woody's Schmankerlkiste
Ale Bachlechner
Astrid Bachlechner
Eva Coscia
Franz-Xaver Schumacher
Carmen Sulzenbacher
Michaela Wurzer
Gertie Ringhofer
Matthias Conrady
CarolinaArciniegas
Andi Schwaz
And all our volunteers and hosts!
Location
Here's where it all happened!
Our kind partners and sponsors: